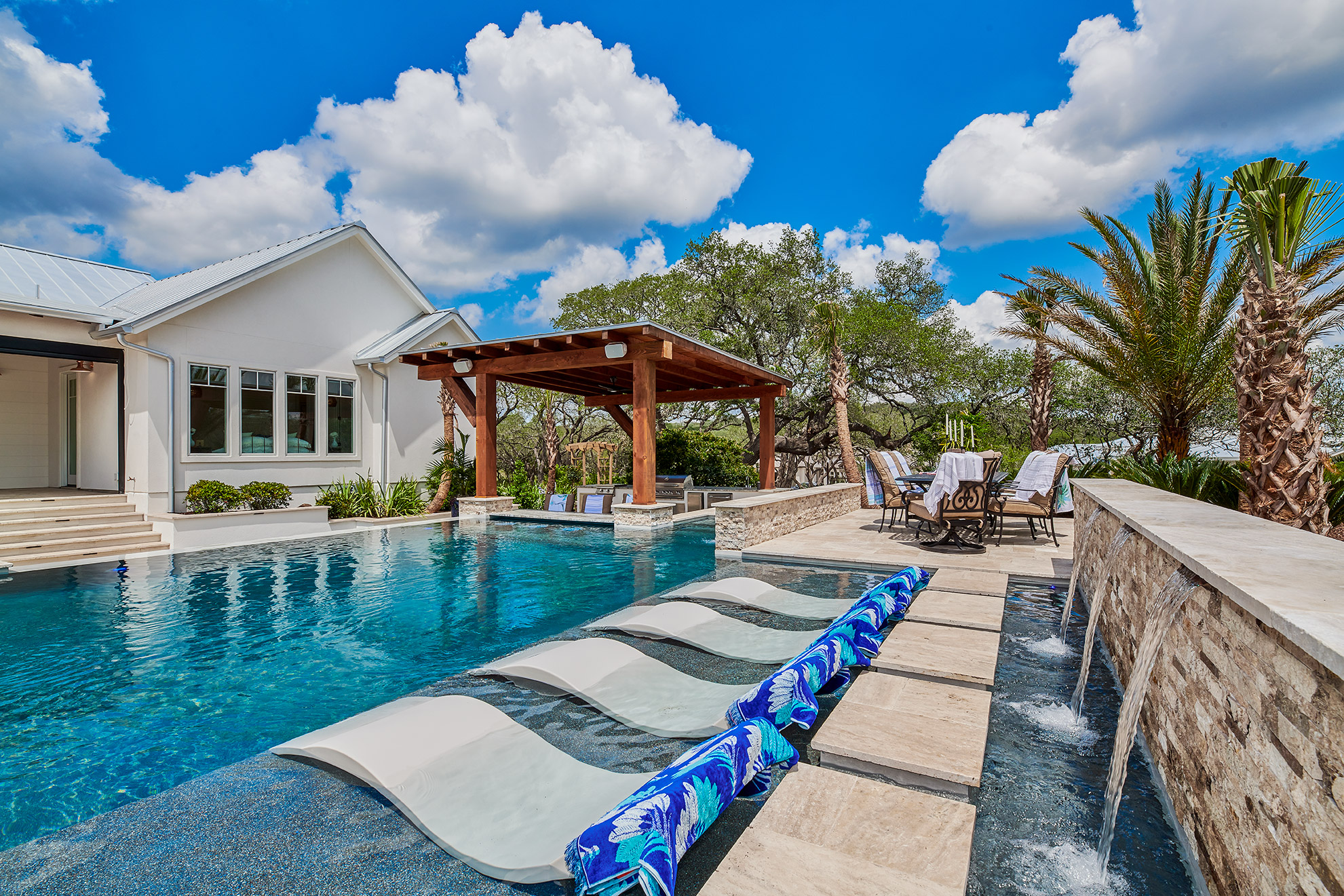 Infinity Pools of Texas Makes a Huge Splash at 2021 GSABA Parade of Homes
This article was featured in the San Antonio Building Savvy July 2021 Issue, pg 28-29. The article can be found here.
Infinity Pools of Texas brings 40+ years of experience designing and building luxury, innovative in-ground swimming pools, water features, and landscape arrangements for discriminating clientele from Cordillera Ranch to New Braunfels. The long time family-owned company is led by principals Carl Poston and Tom Caldwell who have created a culture of excellence in delivering the highest quality poolscapes and customer service.
At the recent Parade of Homes event, you would see owners Carl Poston and Tom Caldwell on-site daily with their hand-selected team of master artisans that know the difference between 'good' and 'great' and take pride in giving their clients nothing short of perfection. Their 'owner supervision' in each project is a unique quality of this luxury pool builder.
It starts with owner management who are involved at every step of the process from the first call, through the design and construction process until the day that their customers enjoy their new pool.
Infinity Pools of Texas sets the bar high. The company tagline is, 'Excellence is the Only Acceptable Standard.' "We believe that excellence in workmanship and support is very important to our discerning clientele," said owner Carl Poston. "We are a builder, not a broker. This is why, from beginning to the completion, we take care of every detail to give our customers the peace of mind that they deserve."
Carl added, "Identifying and exceeding quality expectations is our primary objective while designing and building our customer's pool."
There are no surprises for partners in the luxury construction trade who work with Infinity Pools of Texas on custom home projects. Carl remarked, "Our commitment to our partners is equally important. We strive to build strong relationships with builders, architects, remodelers, and others in the trade. Our business depends on customer referrals. We know that when our customers and partners are happy they will share their experience with their friends, family and their customers. We are the right choice for discerning customers who want the absolute best."
It's no wonder Infinity Pools has grown its reach in the North San Antonio area through customer satisfaction and client referrals. Customer Missy C. wrote, "They went above and beyond in the construction of our gorgeous pool 8 years ago!! I've referred countless friends and they all say this is the best construction experience they've ever had." She added, "They still answer questions when I call and Tom even came out to show me an adjustment on our filter equipment recently."
As a luxury pool builder, Infinity Pools of Texas' experience with developing budgets and executing construction projects has made them a leader in the luxury pool construction industry. Infinity client, Abel reflected, "When starting our pool search we met with the most reputable pool builders in the market and knew we found our guy and pool company when we met Tom with Infinity Pools of Texas. His creativity and vision, given our desires and space, immediately drew us in."
Infinity Pools prides itself on creating poolscapes that are built to last. Owner Tom Caldwell remarked, "We want your poolscape to be a work of art that your family enjoys for generations."
"So many times contractors disappear "after the sale" never to be heard of again…that is not so with Infinity Pools of Texas. There's nothing like the peace of mind of knowing you're getting a beautiful, quality product upfront from a company that pays attention to detail and stands by their product," Abel C. wrote.
All custom pool projects with Infinity Pools of Texas include the highest grade of materials. There are no cutting corners on quality. Every custom project includes upgraded materials as their standard features that go above and beyond the average pool builder. Just a few to mention include: Original PebbleTec® Interiors, complete In-Floor Cleaning Systems, Travertine Coping, Poured Deck Lids, and Travertine Decking. The list goes on.
"Pool and spa construction with our team starts from the imagination and design stage to the end. We run the complete spectrum including excavation, plumbing, water features, decking, and every other process along the way. We believe that when you want the best work done, it's best to put in the effort and do it yourself."
For more information about Infinity Pools of Texas and to discuss your custom project, visit infinitypoolstx.com/request-a-design-consultation/ or call (210) 460-1580.
"Infinity Pools of Texas Makes a Huge Splash at 2021 GSABA Parade of Homes" San Antonio Building Savvy, 1 July 2021